About Nung House
Nung House Resort & Jungle Trekking is operated by the family of Mr. Nung, who grew up in Khao Sok and who is still very famous for his "deep jungle tours" which he was leading in the early days of tourism in Khao Sok.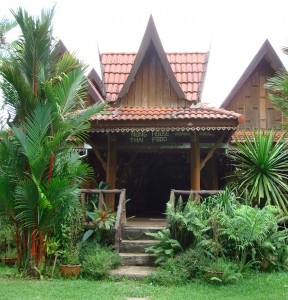 Nung House is located close to the entry and headquarter of Khao Sok National Park! It is very important to us, that you feel comfortable during your stay, therefore we kindly ask you to let us know should be there any sort of inconvenience as we will try our best to clear them up.
We have a wide variety of bungalows, nicely placed in our tropical garden, to suit families and groups at any budget.
Our Restaurant serves up delicious home cooked Thai cuisines that you are sure to enjoy. We offer a full range of trekking tours in and around Khao Sok National Park. Wireless internet is also available free of charge in the restaurant area.
If you are looking for a comfortable place to stay with delicious food, reasonable prices, and great people, then come to stay at Nung House.
• Grand Family rooms (up to 4 people): 1.000 Baht
• Family rooms (up to 3 people) 800 Baht
• Budget room with cold shower (2 people): 400 Baht
• Standard rooms with hot shower ( 2 people) 600 Baht
• Tree house with hot shower ( 2 people) 800 Baht
• Superior stone bungalow with hot shower ( up to 3 people 800 Baht)
Our 21 rooms are surrounded by lush tropical gardens and a relaxing atmosphere…
Our big tropical garden, offers plenty of space for sunbathing, Yoga, meditation and relaxing.
Nung Jungle Trekking & Tours will assist you with your activities and travel needs.
Nirvana Bar with campfire area is the place to watch the tropical stars at night, enjoy some cool drinks and chill out after an exciting day.
Pickup Service
We can arrange to pick you up from various places. 
For more details on our pickup service, please ask.

Motorcycle Rental
We can arrange a motorcycle with full insurance, delivered to the resort at a fair rate.