Khao Sok Deep Jungle Package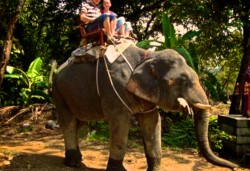 Period of stay: 3 nights / 4 days.
Activities:
River canoeing 

2 night/3 day lake trip to heart of Khao Sok National Park

Jungle Trekking

Boat safaris

Swimming, snorkeling, fishing (bring your own equipment) 
 Availability: Upon request
Price:
10.900 Baht per person (min. 3 Persons max. 6 Persons)
Child 4-11 years old: 6.800 Baht per person
Includes:
Price includes all activities and transportation, a superior room at Nung House and basic room at the raft house,  and eight full authentic Thai meals.  (National park entry fee and drinks cost extra)
Tour Plan:
Day 1: Following your arrival and check into your room at Nung House at early afternoon, we will serve you some fresh fruit.  You will be transported to the starting point of your canoe tour down the Sok River where you can enjoy the beauty of nature.  You will then return to the resort where you can enjoy the tranquility of our our place or take a walk through the village. Afterwards, a delicious authentic Thai dinner will be served and you may want to enjoy a drink next to the campfire at our Nirvana bar and gaze at the stars,  or you might decide to retire to your comfortable superior room.
Day 2: Get ready for the real thing!  After breakfast you will be picked up for your "Deep Jungle" lake trip.  You will be driven to the pier of the lake which takes about a 45 minutes.  A boat will then take you on a 2 hour journey over the lake.  You will get to witness  a fantastic panorama of the floating raft house where you will stay, and hopefully enjoy a swim in the lake.
After a tasty lunch you will go on a boat safari, discovering the deep jungle from the water as well as going on some walks through the oldest rainforest in the world. You will pass creeks and be on the look out for animal footprints as you come across animal trails. You will also be on the look out for big mammals in this area.  This is the habitat of wild bulls, elephants, tapirs, bears, deer and maybe some of the last big wildcats.  The area we will take you to is the most remote place in Khao Sok.
You will then make your way back to the raft house to rest, have a swim, go fishing or just enjoy the beauty of nature.  Meals will be served at the raft house.
Day 3: After an early morning boat safari and a relaxed and extensive breakfast you will take a jungle walk to do more discovering and swimming in the fresh water creeks.  You will be served a simple but tasty lunch with fruit and then make your way back to the boat, which will  bring you back to the raft house.  There will be time to relax before dinner and also will have the chance to go on a night safari by boat, trying to spot some wildlife or go fishing before you retire to sleep.
Day 4: You will have an early breakfast before taking a boat trip back to civilization.  You will have the chance to spot more wildlife and we will also stop at a local floating supermarket where you can buy some cold drinks and have a chat with the locals.
We will then transport you to the Tha Khun bus station (buses to Suratthani, Krabi and Phuket)  or we can also arrange private transportation to your next destination for you.