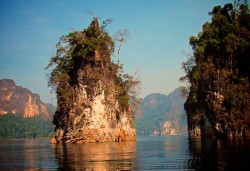 Period of stay: 2 nights / 3 days.
Activities:
River canoeing

Full day lake trip

Elephant trekking
Availability: Daily
Price:
5.100 Baht per person (single person add 1.500 Baht) Child 4-11 years old: 3.800 Baht per person
Includes:
Price includes all activities and transportation, a superior room and five full authentic Thai meals. (National park entry fee and drinks cost extra)
Tour Plan:
Day 1: Following your arrival and check into your room at Nung House early in the afternoon, we will serve you some fresh fruit. You will then be transferred to the starting point of your canoe tour down the Sok River where you can enjoy the beauty of nature. Afterward you will return to the resort where you can enjoy the tranquility of our our place or take a walk through the village. A delicious authentic Thai dinner will be served and you may wish to enjoy a drink by campfire at our Nirvana bar while gazing at the stars or you can retire to your comfortable superior room. Day 2: Enjoy your breakfast before being
picked up for your full day lake trip. You will be driven to the pier of the lake which takes about 45 minutes. A boat will then take you over the lake to a floating restaurant where you can enjoy a swim in the lake. After a tasty lunch you will start a jungle trek through the oldest rainforest in the world. You will pass creeks and be on the look-out for animal footprints as you head towards the famous Thaloo Cave. If the weather conditions are safe, you will take a 30 minute walk through the cave, which is one of the most spectacular things to do in Khao Sok. After that you will make your way back to the boat and have a swim before returning to Nung House. After returning to the resort there will be time to relax and get prepared for a delicious dinner as well as a chance to enjoy the tropical jungle night at Nirvana Bar or in your comfortable superior room. Day 3: After a relaxed and extensive breakfast you will be picked up for the elephant trekking. The trek will take you through rivers, rubber plantations, and evergreen rain forest. On the way back we will stop at Khao Sok viewpoint to take in its impressive scenery. On your return to your room you will be able to take another shower and pack-up as it will be time for you to head on, or maybe extend your stay with us. We will transport you to the Khao Sok Bus Station or we can also arrange a private transport to your next destination.